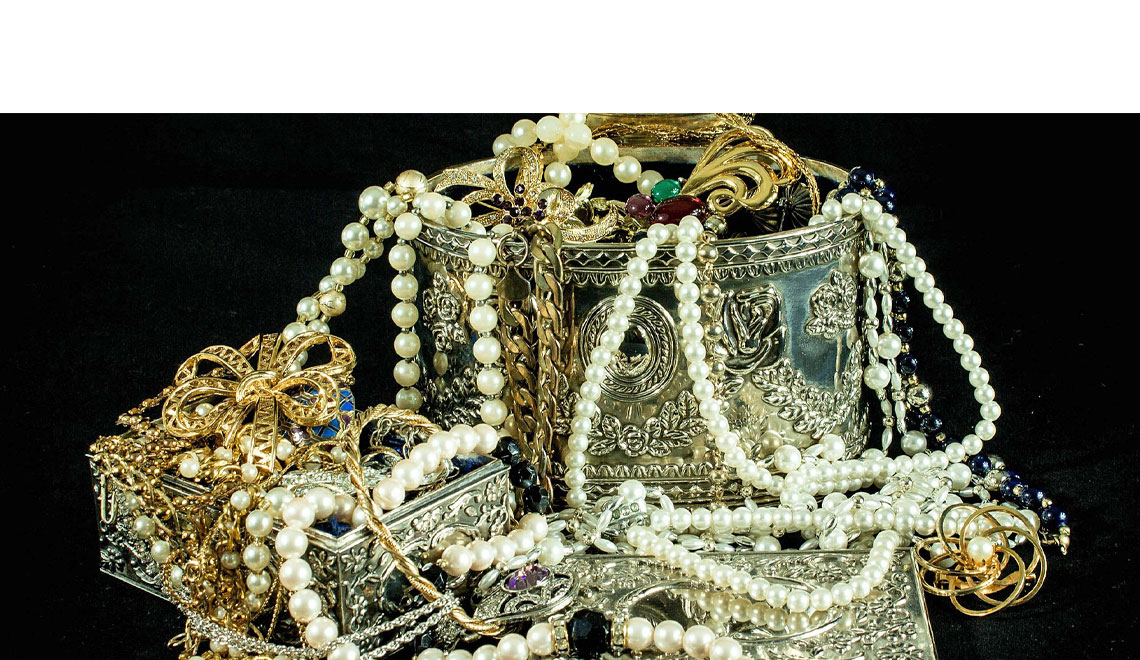 Keeping the dazzle in the bling.
Be it real jewelry or costume jewelry, what we have always has some sentiment attached to it.  It might have been a purchase in a special place, or a present from a special person, or an item you had long searched for.  Cufflinks, watches, necklaces or rings, whatever the item is we want it to last.  Here are some tips to keep your jewelry in shape and looking its best.
Don't leave your jewelry on any surface that has been chemically treated, like wood, as it can stain or promote tarnishing.
Moisture is the worst element for jewelry. It causes tarnishing and makes jewelry look dirty.  Keep your jewelry in a zip lock bag with the air squeezed out and in a dry area.
Remove jewelry before playing a sport, working out or sleeping. Do not wear jewelry when swimming as chlorine and saltwater can damage it.
If you wear silver, store it with chalk which will absorb moisture. If that causes too much dust, buy some silica packs to store with it.
Keep your jewelry away from cosmetic and skin products, hairspray and perfume.
Avoid leaving it in the sun as gemstones will fade when exposed to too much light.
Don't neglect your jewelry. Try to wear what you have to distribute the wear and tear evenly.
Keep gold and silver jewelry apart.
Stackers Anti-Tarnish Strips – $6.99 a package of 36
At the end of the day wipe your jewelry with an anti-tarnish cloth before putting it away to remove any moisture or oils.
Mr. Siga Microfiber Cleaning Cloth – $10.00 for a pack of 12. 12.6" x 12.6"
Do not use toothpaste or abrasive cleaners to polish delicate stones or metals as they can scratch and strip metals. Instead use dishwashing soap and warm water. Buff with a dry cloth.
For porous stones like pearls, opals and turquoise, keep them separated in their own bag or box that is not too dry or airtight. Do not soak pearls or any jewelry on threads as water can stretch and weaken threads and pearls can lose their sheen.
Jewelry should never be tossed together in a drawer, a suitcase pocket or in a dish on top of the bureau as it will scratch and can damage stones. The pouches and boxes pieces come in are safe for storage or use jewelry boxes with padding and individual slots for storage.
Simple cleaning is best as opposed to expensive cleaners. Use warm soapy water and a soft toothbrush then wipe items dry with a soft cloth. For gemstones use the same dish soap but mix it with seltzer water instead of regular water. The carbonation can help loosen and remove dirt and debris in the settings. Cetaphil Baby Wash & Shampoo or Dawn Platinum Dish Washing Liquid are good.
Take pieces with many stones to a jeweler to check for loose stones annually.
Jewelry should be the last thing you put on and the first you take off.
When packing jewelry, necklaces can be laid out on a handkerchief, rolled up, with the ends together in a loose knot. Keep other pieces in separate containers or pouches.  Snack size baggies are good, or small items containers.  Once items are separated they can all go into a larger bag if desired.
More products that help:
Jewelry Sparkle Wand by Town Talk – $13.80
Connoisseurs Diamond Dazzle Stick – $7.89
Baublerella Bling Brush Jewelry Cleaner – $18.00
Deluxe Pearl Care Kit by Town Talk – $14.95
Sparkle Bright All-Natural Jewelry Cleaner – $11.95 for 2 oz.
This acrylic 3 drawer jewelry box is velvet-lined and 9.5" x 5.9" x 4.33" and $29.99.
This leather travel jewelry case is lightweight and durable.  It has a suede lining, a top handle for carrying and a metal lock.  It is 7L" x 5.5W" x 5.1H". $22.99.
Mini Round Boxes – $2.29 for a set of 12.  They come in assorted colors or clear. 1-1/4"d x 1"h
Use separate reusable snack size baggies for each piece of jewelry.  Toothbrush containers or pencil containers also work. 4.5". Made from silicone and dishwasher safe.  $9.99
Note:  We received an email from reader Anne A. who said that opals are the exception to the rule of minimum moisture.  Here is her research:
Opals will craze (develop cracks on the surface) and lose their 

play of color 

if their water evaporates. Storing your opal jewelry pieces wrapped in soft, moist cotton may prolong their life.

Don't store your opal pieces in oil or glycerin.  This won't help protect them and will make cleaning more tedious and messier.