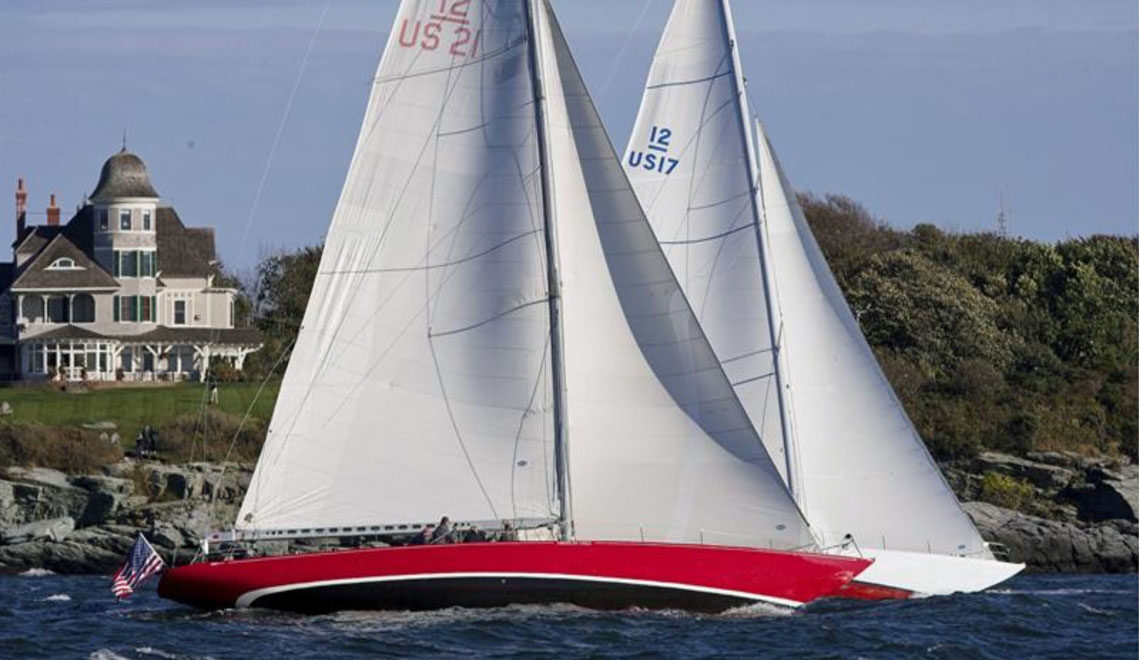 Sharon Lorenzo shares her sailing victory story.
In 1958 naval architects began to build a new fleet of yachts that would sail in the major ocean races with a more streamlined design for efficiency and speed on the water. Bill Luders Jr. is credited with coming up with the 12 Metre formula  to replace the older 135-foot J boats. Measuring the girth, freeboard space and sail area, this formula gave birth to the 12 Metre class of which 28 have been built in the USA. With approximately 54,700 lbs. of weight and 178 square meters of sail area, they are all approximately 66 feet long at the water line.
American Eagle Twelve Metre yacht
In 1964 the 12 Metre American Eagle was built to be sailed in the America's Cup trials. She was then acquired and owned by Ted Turner from 1968-1973 during which time he was named Yachtsman of the Year twice as he won the Southern Ocean Racing Circuit, Sydney-Hobart, and the Fastnet races. Ted Turner was born in 1938 and after attending Brown University, he had three wives and children while founding the Cable News Network now known as CNN.   Living today, he is retired from sailing but still attending Twelve Metre events in Newport, Rhode Island.
In 2020, the boat was sold to Alex Valcic and his wife Jephtha Tausig. Alex had hoped to retire from his career as a technology consultant, and said he was going to buy either a fast red car or a fast red boat.  American Eagle was rehabilitated with new instruments and lines and is available for private charters in Newport when not racing in the waters of New York, Martha's Vineyard, and Nantucket. Jephtha has a Ph.D. from Columbia University in clinical psychology and maintains active practices with her patients in both New York and Nantucket. For this summer of 2022, she assembled a team of 12 ladies to race on American Eagle in the 2022 Nantucket Regatta.
Alex and Jephtha Valcic
The captain de jour of the boat was Annie Gardner who has chartered yachts and taught sailing and tactics to many students around the world. She is a specialist in team building which is what it takes to sail these boats in a highly competitive environment.  She turned the helm over to Sandy Yellott, a veteran sailor from Nantucket who has sailed on twelve meters and was both a sailing coach and teacher after graduating from Cornell University.
 2022 American Eagle team
Annie Gardner, Captain de jour
Sandy Yellott and Jephtha Tausig
The back- up team in the cockpit included Alice Rogoff, Linda Johnson and me and all had many years of sailing experience on the waters of Nantucket. All three have been members of the IOD racing team- a fleet of highly competitive one design yachts. Alice and Sharon also sail in beetle cats and Linda is a graduate of the North University sailing clinic and has raced near Captiva Island, Fla. in the winter months. On the foredeck was a team of nine ladies divided to manage the jib, main sail and grinding winches.  From our resident medical doctor, Katherine Sullivan, to our historic preservation specialist Michele Kolb, we had a team which one lovely sailor Page Gosnell said was for sure not the normal "deck fluff" usually assigned to ladies. Minou Palandjian, Melissa Richards, Kim Frisbie and Beth Colucci all focused on their individual jobs of sail trim and grinding, as there was not time for idle chatter with high winds and frequent tacks which required timing and precision.
All the ladies agreed that the winning experience of beating the mostly male competition on the water was indeed a regal victory which required patience, concentration, and community spirit.  Like the musketeers we were one for all and all for one, ignoring the bruises or boat bites that we all experienced.  The synergy of working together on the timing and delivery of speed and accuracy kept us all in line.  We celebrated at the end of the last race with rosé wine and a greeting on the dock from Alex, Cabinet Secretary John Kerry, and former governor of Virginia, Terry McAuliffe.  It was indeed a royal day with celebrations at the Great Harbor Yacht Club for a team that was not only dressed to win but was victorious in our red outfits matching the waterline of American Eagle, our 12 metre champion.
                                                                                                                  2022 Winners