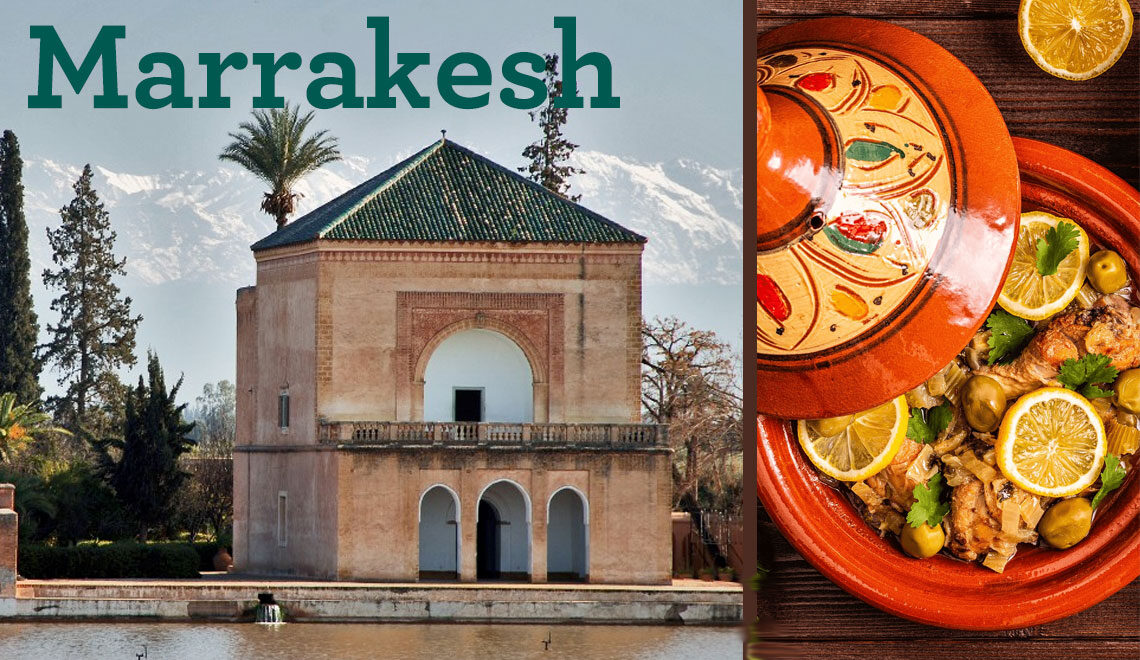 Sharon Lorenzo reports on Morocco and how to cook in Tagine Pots.
Sofitel, Marrakech, Morocco
As we entered the marketplace in Marrakech for a family vacation, our guide yelled to us, "Ballack!!"
We soon learned that this meant, "The donkeys are coming," as they raced through the stalls delivering vegetables, spices and local decorations.  It was all part of the lively life which the population of 37 million people in this country enjoy as they border the Mediterranean Sea on the North and the Atlantic Ocean on the West.
"Ballack"– The Donkeys are Coming!!
Spice Markets
Ranging from mountains to deserts, the 172,300 square miles of Morocco give rise to an elegant array of spices used for the cuisine that we loved so much. Our hotel had a cooking class for its guests, and we loved learning about the local specialty: tagine.  Based on a Berber word meaning, "shallow earthen pot," shepherds would cook on open fires using the clay pot to merge the flavors of their meats or fish, rice and vegetables.
Available in many sizes through vendors online: Tagine Pot with decorations.
The magnificent entry of our hotel noted above set the stage for this vacation in a land that was founded by Berber nomads which finally became independent in 1956. As in the 19th century, the French and Spanish nations had divided its territory for many years. Now ruled by a local King and two houses of Parliament, it is the 5th largest economy on the African continent.   The merger of modern convenience and ancient Arabic design comes forward in the use of the tagine pot in which we learned to mix many spices. We then cooked onions and garlic in olive oil, then added vegetables and fish or meat, topped with rice or couscous.  Just like the shepherds in the wilderness, you just take off the top and serve the dish on the table- ready for all to enjoy.
For our western stoves, most chefs recommend using a small metal diffuser to spread the heat evenly over the surface of the clay pot. They are also available online for a minimal cost.
Tagine Diffuser.
My favorite recipe is from the famous chef, Daniel Boulud, as noted in the New York Times food section. [1]  Particularly specific in the mixture of his spices, he recommends using all of the following: paprika, garlic powder, cinnamon, coriander, turmeric, ginger and cardamon.  For my family, we often cook these with chicken thighs as they absorb these flavors when mixed with broccoli or carrots.  My husband also loves the mix of salmon with asparagus and couscous. The idea of one dish with a side salad and dessert makes an evening meal a delight to share with family or friends.
                                                                                                   Chicken Tagine with side salad
Enjoy this treat and find many more versions of the recipe in your cookbook collection or through online resources.
[1] Daniel Boulud, Chicken Tagine, New York Times. See www.cooking.nytimes.com.