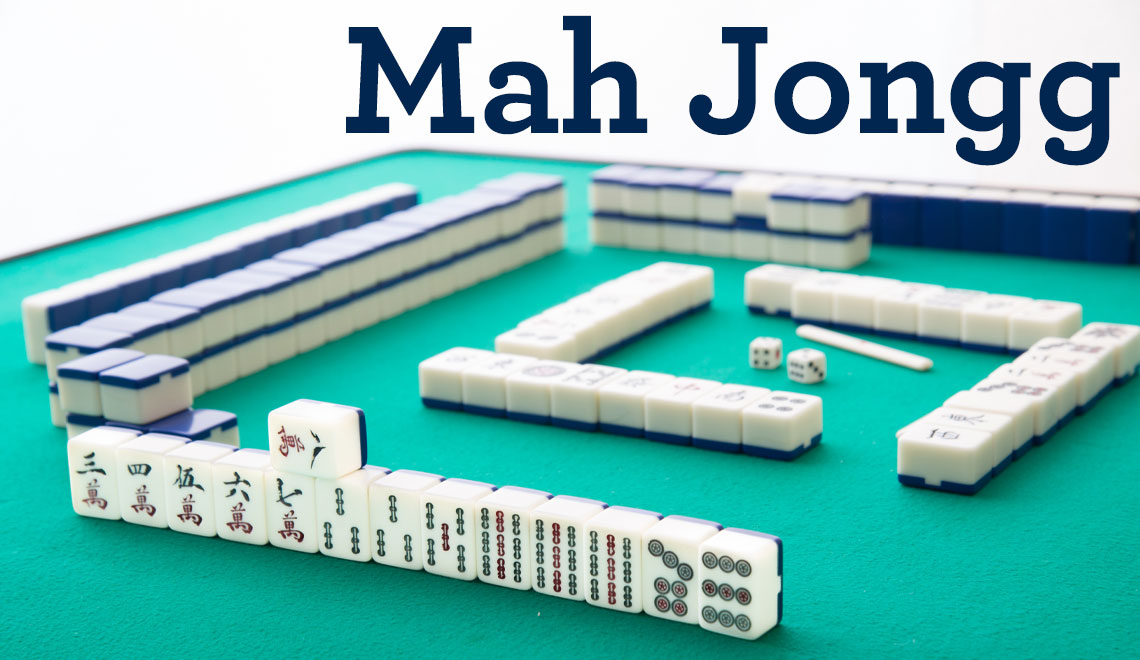 Play Mah Jongg with real people – virtually or in person.
Nancy and I were both rivetted by the Queen's Gambit, about chess.  We play bridge and have adapted to online, virtual bridge.  Our friend Gregg Swain has sparked our interest in Mah Jongg.  Gregg is an instructor who lectures across the United States, speaking at clubs, museums, and social organizations. She is the co-author of American Mah Jongg for Everyone and Mah Jongg: The Art of the Game. She loves to teach Mah Jongg, helping people enjoy the fun and challenge of playing as they form new friendships around the table. Gregg reports that with the combination of the pandemic restrictions and the popularity of chess as a result of The Queen's Gambit, Mah Jongg is enjoying a renaissance. Gregg lives and works in New York City.
REFLECTIONS ON THE QUEEN'S GAMBIT AND MAH JONGG: GUEST POST BY GREGG SWAIN
2020-2021 will be known for many things, but certainly for the global pandemic and the ways we've had to change how we work, play and get together.
Our favorite TV series binges are major topics of conversation while Zooming with friends. The Queen's Gambit, that surprisingly captivating series streaming on Netflix, might just offer particular insight into our shuttered lives this unusual time. It's the fictional story about brilliant, damaged and lonely Beth Harmon, played by the luminescent Anya Taylor-Joy, who discovers the game of chess. So as to not give anything away, let's just say chess changes her life completely. We see Beth's determination to win, and all the sacrifices she makes to have that happen. Happily, along the way, she begins to make connections and friendships which give her support at the times she needs it most.
Many of us never would have thought watching people play chess would be interesting, but the chess scenes in Gambit are as suspenseful as any Hitchcock thriller. OK, it's just entertainment, but perhaps in any other year, this series might have gone largely unnoticed. Who would have thought in the age of electronic gaming, this show, with millions of watchers — even people who don't know the first thing about chess—would captivate viewers throughout the country? Chess set sales are up nationwide, and books on the game are flying off the bookstore shelves.
Given that Toby Salk, co-author of American Mah Jongg for Everyone, and I love everything about mahjong, and the pleasures of being at the game table together, it will come as no surprise we thought about how much mahjong shares with its much older cousin, chess. We think that part of the The Queen's Gambit's success, (in addition to the excellent plot twists and cast) is that it's about the universal truths of game-playing itself. It's being in a group, forming friendships, with everyone sharing the same goal. It's about paying close attention to rules, moves, strategy and patterns. Finally, there are no shortcuts in a world that's full of them.
                                                        Extraordinarily carved Chinese Bakelite mahjong tiles depicting Chinese deities
We saw a similar increased interest in mahjong when the movie Crazy Rich Asians came out. There definitely was a surge in interest about mahjong, although it's featured in only one—but very pivotal—scene. Audiences were curious, articles were written about the significance of what transpired in that mahjong parlor, and Toby and I have been asked countless times about that scene. Just as in Gambit, movie audiences in Crazy Rich Asians didn't need to know the rules of mahjong; they were trans-fixed by the excitement of actual game playing: the interactions between the protagonists. We're convinced people learned to play mahjong as a result of Crazy Rich Asians.
For centuries, chess aficionados and museums have collected exquisite sets that add to the general mystique that also infuses Gambit. Retail outlets are now reporting a special interest in wooden chess pieces as a result of the series. Both games offer beautiful, hand-carved pieces to delight the eye. Now mahjong sets are becoming prized—no surprise to anyone who's embraced the tactile experience of a mahjong tile. Mah Jongg: The Art of the Game (Tuttle 2014) was the first book that specifically introduced to the world various and marvelous mahjong tiles, sets, racks and boxes. A chess-playing acquaintance of ours who doesn't play mahjong (we're working on him!) has a world class collection of chess sets in his library, where he prominently displays a copy of Mah Jongg: The Art of the Game. He's discovered mahjong sets are that beautiful.
This custom-made German mother-of-pearl set from the 1920's came in an exquisite, cantilevered box, crafted from Southeast Asian amboyna wood
In The Queens Gambit, Beth's first teacher, Mr. Shaibel, opens up a new world for her when he teaches her chess. That's how many students feel about their teachers and mentors. I'm very grateful to have been taught by the wonderful Linda Feinstein, who literally changed my life. Toby was "born knowing how to play," but Mah Jongg opened up opportunities for her, too, with a life of new connections, friends and finally a business that's showcased in a Wall Street Journal interview!
Luckily for people who haven't learned to play Mah Jongg yet, our new book: American Mah Jongg for Everyone, just published by Tuttle, can teach anyone who wants to learn. The book was written so readers could feel they were right in class with us, as we teach and give tips and strategies, sharing our joy of the game. Now there aren't any Mah Jongg equivalents to the "Sicilian Defense" or the "Queen's Gambit" move, but Mah Jongg playing enthusiasts have a few traditional moves of their own, and we share them with our readers. Given in-person learning isn't possible right now, American Mah Jongg for Everyone was published at just the right time!
­
Toby and I hope people who don't play Mah Jongg take the time to learn the game. American Mah Jongg for Everyone, is a perfect introduction. Readers don't even need to have a Mah Jongg set: there's a paper one designed by Woody Swain that can be cut out of the back of the book, and there's a pdf of the tiles on the book's website.
During the Pandemic, we're all thinking about activities we can do at home in our safe pods. Sometimes there might just be one other person in the house, and any pastime that can be enjoyed by a couple is especially welcome now. Chess, a two-person game like checkers, lends itself to couples staying at home, quarantined or otherwise. Although Mah Jongg is intended for four, there are ways to play with three or even two people. A two-person version, Siamese Mah Jongg, is usually played by middle and advanced players, but simpler versions can be enjoyed by just two people. A game can be just as exciting as any scene in Crazy Rich Asians or in Gambit for that matter.
                                    Fabulously detailed drawings by Woody Swain                          Cut out an entire Mah Jongg set for play!
Hopefully The Queen's Gambit will be one of many silver linings in the pandemic cloud. Wouldn't it be wonderful if people would turn to games such as chess and Mah Jongg, and other activities calling for real personal interaction? These COVID times just might offer something positive after all. Fingers crossed.
Gregg recommends two online sites where you can set up an account and play Mah Jongg with friends.
Real Mah Jongg offers a free trial.  You can play on your desktop, iPad, iPhone and Android device. You can play with friends, other members of Real Mah Jongg or robots.
MyJongg.net  MyJongg.net offers free sign-up.  You need to create an account – and then play.  There is a tutorial to help you learn to play, then hundreds of players are on the site and you can join a table.  You can also set up your own, private table. You get eight games as a free trial and then your membership is $4.99 per month or $39.99 for twelve months.
Purchase the 2021 Standard Hands and Rules of Mah Jongg. $10
Buying guide for Best Mahjong Sets –  Amazon guide to buying Mah Jongg sets, with suggestions.