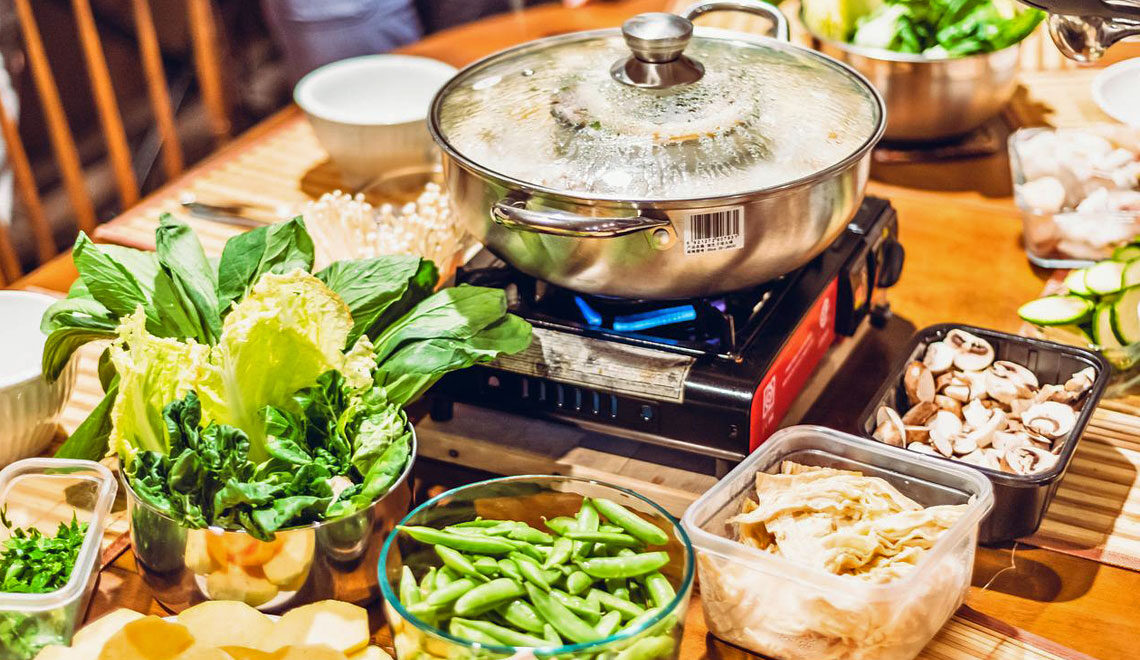 Hot Pot (huǒ guō (火锅) in Chinese) is an emerging communal culinary obsession.
Hot Pot is a shared cooking and eating experience, thought to have originated in Mongolia 800-900 years ago.  It then spread through East and Southeast Asia.  There are regional distinctions, but the basic formula has three basic components – broth, dipping ingredients and sauces.   Gather a group of friends or family together and cook an assortment of ingredients in a pot of simmering, flavorful broth.  Once your shrimp, noodles, mushroom, Chinese cabbage, or meats, are cooked, dip them into your sauce of choice and eat.  Repeat until satiated.
Broths
In a Hot Pot restaurant there will be a selection of broths to choose among, and broth combinations can be requested. If you are making Hot Pot at home, you can take a shortcut and use a store-bought broth.  It is recommended that you serve two different broths so your guests have a choice of flavors.  Some people choose to serve spicy and non-spicy broths, or you can serve a beef broth and a vegetarian broth – your guest list will determine the choices you offer.  Here are some store-bought sources:
These Little Sheep Mongolian Hot Pot Soup Bases are sold as a pair and one is hot and the other is plain.  $13.49 for the pair.
Try this variety pack of five Hot Pot soup bases by Little Sheep.  It includes Plain, Hot, Mala Spicy, Mushroom, Big Bone Broth.  $34.85.
Dipping Ingredients
Most Hot Pot meals offer the following selection of ingredients:  Leafy vegetables include Napa Cabbage cut into long slices, Yu Choy, (remove roots and cut into thirds) and bean sprouts.  Hardy vegetables include yams, mushrooms, Taro, lotus root and squash.  Common protein sources are shrimp, short ribs, squid, fish fillets, clams, thin beef slices, lamb slices, pork belly, bean curd rolls found in Asian supermarkets, tofu, fish and beef balls found in Asian supermarkets.  Starches include glass noodles, instant ramen, dumplings and rice.
Equipment
The Tayama TG-28C Hot Pot is 11" in diameter and is made of stainless steel and has a divider and heat-resistant handles.  It comes with two stainless steel food strainers and one soup ladle.  $31.04.
An electric burner is perhaps the most important piece of Hot pot equipment. Hot Pot is about cooking whatever you want at a shared table and eating it. Electric burners cook evenly, and they don't require butane.  This model is white and stainless steel.  It is fast heating, portable and compact for traveling.    $23.04.
You will need either chopsticks or wire skimmers to lift your food out of the broth, or just to lift it up to see if it's cooked enough.  It is stainless steel and 5" wide by 8.75" long.  $11.59
Dipping Sauces:
Dipping sauces include sesame seed oil, oyster sauce, and soy sauce as bases.  Add to each sauce whatever you like – garlic, pepper flakes, cilantro, peanuts. salt, pepper, crushed chilis.
How it works:
Find Hot pot recipes to use because they will be helpful on the dipping ingredient amounts and the cooking times.
Your guests gather around a table, each one has a plate and bowl with a dipping sauce. I like to give each guest a bowl of rice.
Place your burner and the pot in the middle of the table.
Add your food gradually, in small batches, to the broth.
Let the broth return to boiling before you add more food.
It is customary to share food with the other diners.
Remember that this is a social way of eating, so enjoy yourself and your guests.
See our article on ASE Asian Dipping Sauce
Salty, Tangy, Asian Dipping Sauces